The Work Continues.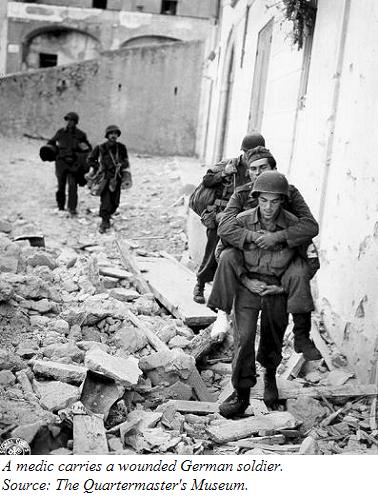 The end of the war was in sight now, and if the rest of the world was inclined to sit back and relax a little, O?Flaherty was not. He was soon visiting POW camps again, only this time the prisoners were Italian and German. Just as he had before, he kept an eye on welfare and conditions, gathered names, and helped Italian citizens get news of their missing or imprisoned relatives. Sam Derry arranged for O?Flaherty to see the US General, Mark Clark, and recalls that the Monsignor spent most of the meeting quizzing the General about the Americans? treatment of their German captives.
O?Flaherty flew to South Africa to visit prison camps there. He visited Jerusalem to help many of the Jews he had rescued with their immigration to Israel. The two double agents who had been involved with the organization were put on trial as Fascist collaborators. O?Flaherty testified on their behalf. ?They did wrong,? he told Derry, ?but there is good in every man.?
1946 saw O?Flaherty promoted to a higher position in the Holy Office. But the tales told about his work and the regard with which the people held him (some called him a saint) unfortunately hurt his career more than helped it. Those Vatican officials who had always been annoyed by his unorthodox style were doubly offended now. Even though he never sought recognition, and would get almost angry if called a hero, O?Flaherty had to fight backbiting and politics for the rest of his career. This tired and disappointed him, but he didn?t let it discourage him too badly.
He was busy with other things anyway. After all, the golf courses were open again. While playing near Ciampino one day in ?46, the monsignor stumbled on a half-starved group of Central European refugees squatting in a ruined village. Naturally O?Flaherty couldn?t just pass by. He provided food and clothing, helped the men find work, fixed up the buildings, taught the refugees about the Church, baptized them, and virtually adopted the whole village. For the next 12 years, he would visit every Sunday and say Mass.
1950 was a Holy Year (a jubilee celebrated by the Catholic Church every 25 years) and hundreds of religious pilgrims were expected to travel to Rome. To help them make the most of their visit, O?Flaherty was asked to co-author a guide to sights of the city. As usual, the Monsignor gave the job his all. The resulting book, O Roma Felix, is described by biographer Brian Fleming as ?an amazing amalgam of geography, history, culture and archaeology ? a very scholarly work and far richer in its content than the average guidebook.?
O?Flaherty was justly proud of his book, and would tell anyone who asked that it was better than any other guide to Rome. But about his work during the war, he remained reticent. Even his closest family learned about his heroism only indirectly. His sister, Bride, recalled meeting a Jewish family on one of her visits Rome. When they learned that the Monsignor was her brother, they brought her into their jewelry shop and insisted that she pick out anything she wanted, so great was their gratitude to O?Flaherty. But from her brother himself, Bride could rarely get a word.
After the War.
Because of O?Flaherty?s silence, it is hard to know exactly how many people he helped to rescue during the occupation of Rome. According to Sam Derry?s records, the British escape organization saved some 3,925 prisoners-of-war?British, American, Russian, Greek, South African and twenty other nationalities. Major William Simpson, who became closely involved with the work of both Derry and the Monsignor, estimates that around 2,000 civilians were helped as well.
For his work, O?Flaherty was made a Commander of the British Empire, and awarded the US Medal of Freedom with Silver Palm. (All such decorations were sent to his sister in Ireland, to be kept in a drawer.) Italy offered him a lifelong pension, but he refused to use it.
Sam Derry was given the Distinguished Service Order, and eventually retired a lieutenant-colonel. Mrs. Chevalier received the British Empire Medal, and many other members of the organization were decorated or commended. Gemma Chevalier married a British Corporal, Kenneth Sands; O?Flaherty performed the ceremony.
Pietro Koch escaped Rome but was shot by Italian partisans as he tried to reach Milan. Colonel Herbert Kappler was tried for war crimes and sentenced to life imprisonment. He served his time in Italy?s Gaeta prison, where, for the next decade, he had only one regular visitor.
Monsignor Hugh O?Flaherty came to see him every month.
And in March of 1959, Kappler was baptized into the Catholic Church at the hand of the Irish priest.